2020 will probably go down in memory as the year of upheavals and change. I count myself among the lucky ones to have been able to keep my job and health during this trying year. I picked up a new craft during circuit breaker out of interest and a desire to fill my time. That has grown into
an online business selling handmade crochet items!
It is not easy to juggle a full time job with a side business selling time-intensive handmade items but it has been incredibly fulfilling :)
On the investing side of things, I made a good call to pivot away from our local shores in search of better growth opportunities. Cloudflare, Alibaba and Tencent are some of my frontrunners of the year.
Portfolio grew by 127% including capital inflows
Excluding dividends but including capital inflows, my portfolio grew 127% in the past year, of which 29% is organic growth. By organic growth, I mean an appreciation in stock value or profit from closed positions.
Check/uncheck to see data points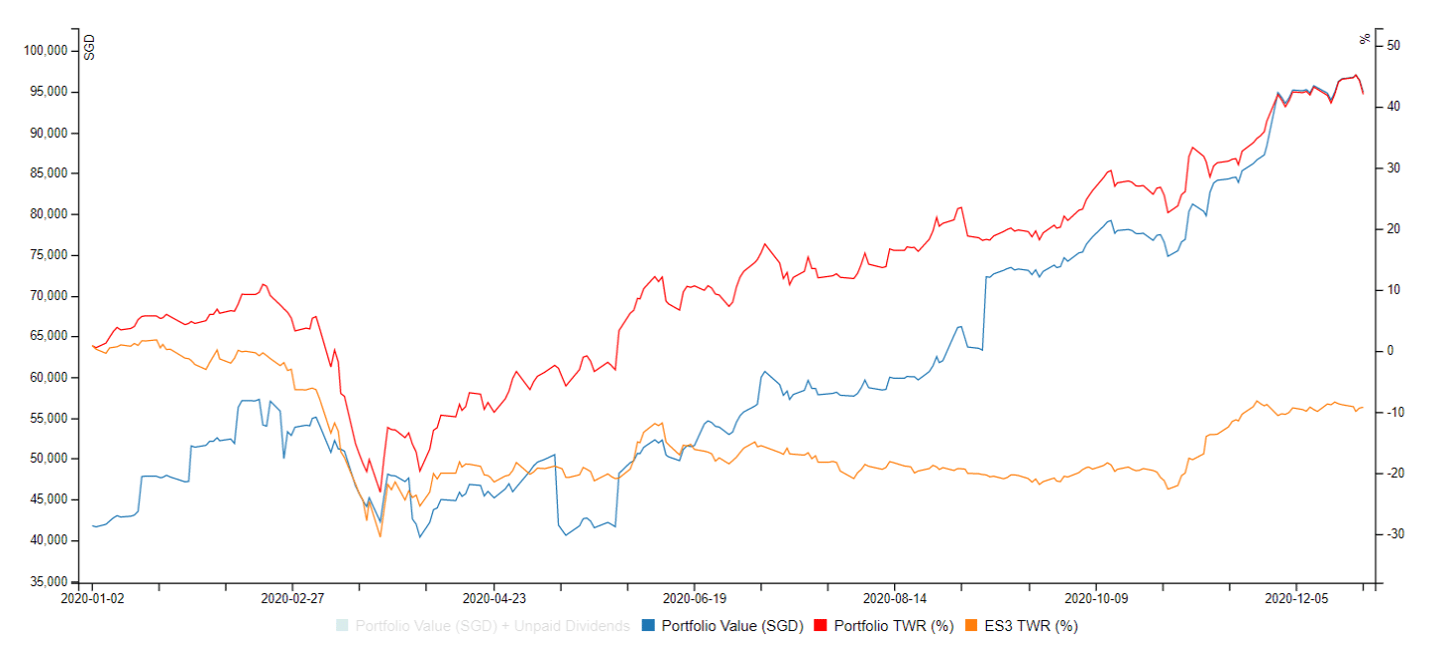 Portfolio value exceeded initial target by 35%
I ended up investing twice the amount I originally intended, partly due to reduced spending, work bonuses and a pay raise :D Total capital inflow was close to 40k.
Winners
Tied for 2nd place, we have Tencent and Alibaba. Both stocks
were
at a positive 13-15% paper profit in my portfolio before the recent drop 😅
Losers
Singtel is the biggest loser in my portfolio right now. Down by 31% from its peak in January, I am holding it at a loss of -17.62% after accounting for dividends and closed positions. At this point, I'm just waiting for the price to stabilize once covid-19 is done and dusted before I sell it off. The only reason I'm not selling it off right now is because I don't need the money and I frankly don't think it'll drop lower than $2 #fingerscrossed
Following closely behind on my "biggest losers in 2020" list is Ascott Trust. Beaten down by covid-19 and its impacts on the tourism industry and global travel in general, the share price is also 30% down from its peak in January. Unlike Singtel though, I am quite optimistic that Ascott will bounce back since it is in a much better place financially and has more growth potential than Singtel.
Some personal learning points and reminders for myself
Don't be afraid to jump in when stocks are beaten down. Look ahead. Its easy to say this on hindsight, but much much harder to practise in the moment
Don't get put off by an expensive stock price (eg. Shopify) if I am confident of the growth potential. There have been too many missed opportunities >.<
All in all, I was only able to check off 4 out of 5 of my goals for 2020:
✔️

Save up and invest an additional $20,600 and grow portfolio value to $70k by end 2020

❌ Run a half marathon - My knee started acting up recently so this is off the plate for now. On the bright side, I clocked 172km of running this year!

✔️ Exercise regularly to maintain my physical health - 5km in 30minutes

✔️ Practice driving regularly so that I can drive when I visit Australia in May whenever I possibly can!

✔️ Continue blogging!
Looking ahead to 2021, I hope to regain some work life balance and continue growing my portfolio.
Save up and invest an additional $23,300 and grow portfolio value to $140k by end 2021

Clock a total of 200km of running

Drive to any one corner of Singapore (eg. Punggol, Changi) and back home 😂

Continue with my crochet side business and stay profitable 💰

Continue blogging