I have not had time to update this blog as I've been busy setting up a side business in the past month! I run a small shop on instagram selling handmade crochet items! Do check it out @offhook.creations and support me 😀
Slight digression about crocheting, feel free to skip ahead
I picked up crochet during the circuit breaker period and since I enjoy it, I figured I would try to earn some kopi money hahaha. There are quite a few players in the local market, pricing is competitive and honestly the skill/quality level is pretty on par except for a few notable exceptions. I think crochet as a hobby/side business has become popularized after covid-19, not unlike the whole #covidbaking #covidcooking trends.
From my market research, what stood out to me most clearly is that the suppliers in this market are the ones who are really profiting. This refers to mainly yarn suppliers and to a smaller extent, fabric/sewing shops.
When there is a growing trend in a particular industry, the suppliers are often the ones who benefit first. In the technology sector, there are semi-conductor manufacturers for hardware and then there are cloud hosting platforms, bug tracking systems, CRM platforms, marketing platforms and a whole plethora of Software as a Service (Saas) companies who are benefiting in one way or another, from the technology bull run. No prizes for guessing which sub-segment of technology I'm more familiar with. Let's not forget that REITs who hold data center assets also stand to benefit from this technological wave.
In recent months stock markets have collectively been buoyed by a seemingly insatiable appetite for technology stocks. I'm glad I increased my stake in Alibaba (9988:HK) when I did, as the share price has gone up close to 43% since mid-May. Alibaba is now carrying the weight of my under-performing SGX stocks OTL. In other news, Ant Financial is IPO-ing soon. Who else is excited! 🎉
Introducing Cloudflare (NET)
One example of a tech stock that can be considered a "supplier" in the industry is Cloudflare. Cloudflare provides web and security infrastructure services to its users. This includes content-delivery-network (CDN) services, internet security and domain hosting services. True to its name, all of its offerings are hosted on and accessible from the cloud, replacing traditional on-premise solutions.
While the bulk of Cloudflare's customers are currently SaaS companies, it is industry-agnostic. Any company that has an online website or an internet application could potentially be Cloudflare's customer.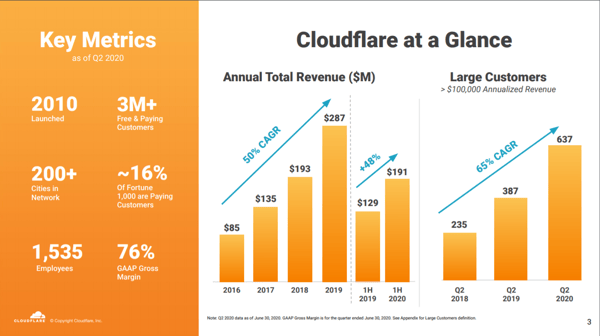 What to like about Cloudflare
Large and growing addressable market
Covid-19 has fast-tracked digitization of traditional and offline businesses and we are expecting internet technology to lead the next wave of economic prosperity. The services that Cloudflare offers are akin to building blocks for companies that wish to get online and go digital. This means that the pool of potential customers will continue apace with opportunities like 5G and Internet of Things (IOT). An increasing total addressable market (TAM) means Cloudflare can grow their revenue simply by adding more customers.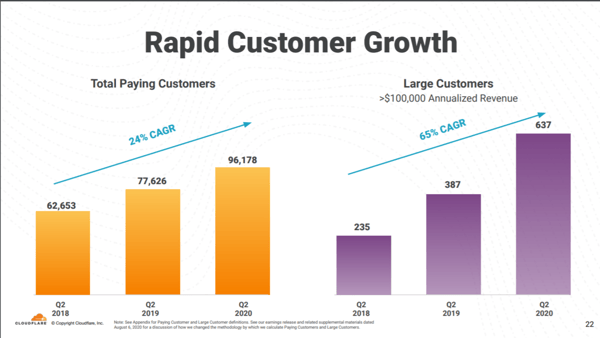 Product stickiness
Moving a business on or off existing platforms is more often than not, a logistical and administrative headache. This stickiness applies to web and security services too, which works to Cloudflare's advantage, since customers are less likely to switch to it competitors even if they offer a more attractive price point. According to the Q2 earnings presentation, Cloudflare has been maintaining a high dollar-based net retention of 115% over the past 9 quarters. This tells us that not only has Cloudflare been able to retain their customers, customers are increasing their subscription costs through upgrades and renewals.
I am optimistic about SaaS companies for this same reason. Most businesses rely heavily on 3rd-party software and the longer you use them, the more sticky it gets. Slack is a really great example of this (it's a pity they're nowhere near profitable at the moment). I came across an in-depth discussion about Slack's stickiness at NotBoring. The whole blog in general is amazing, great reads all around so I highly recommend checking it out.
I work in a SaaS company that helps businesses manage their CRM, Marketing and Sales operations, and I can vouch for how much work is needed to migrate off these types of platforms. If you have time, check out this blog post written by a business owner on his perspective of 3rd party software.
High revenue growth, improving margins
If not for its strong revenue growth, I would not give Cloudflare a second look. Cloudflare has not turned profitable as of Q2 2020. Sales and marketing expenses have been hovering between 48-52% over the past 4 quarters which is not great. While the company has plans to bring this down to the mid-twenties in the long term, I am cautiously optimistic about this goal.
On the bright side, gross margins are holding steady while operating margins are on the downtrend. Stock prices tend to be forward-looking with optimism priced in before they come to fruition so it may be too late to wait for Cloudflare to become profitable, hop on the bandwagon.
Revenue diversification
Compared to its competitors, Cloudflare has a larger share of its revenue (51%) from outside of the United States. This has its disadvantages, especially if geopolitical tensions escalate and get in the way of business deals. But if we look at it from another angle, this means that Cloudflare has a stronger presence in non-US markets than its competitors which would make it easier for them to acquire customers outside of the US.
Freemium model

Cloudflare works on a freemium model like most SaaS companies today. The free tier has no bandwidth limitation and is a great way for users to get a small taste of what Cloudflare offers before deciding if the product is a good fit for them. Cloudflare also has apps built by 3rd party developers that are available to both free and paid users. These apps provide add-on capabilities (eg. SEO auditing, ecommerce plugins, integrations to commonly used apps like Google Analytics and Drift) to the existing services provided by Cloudflare.
Strong cash balance
Cloudflare's strong cash balance was amassed during IPO and a recent offering of convertible notes. The company's operating cash flow also turned positive this quarter, however I am cautiously optimistic as it is not a guarantee that the trend will continue next quarter. Operational costs are lumpy and can be concentrated in specific quarters due to employee compensation plans or sales & marketing initiatives. Having a strong cash balance is therefore crucial for Cloudflare as it enables them to weather headwinds without having to hit pause on the growth engine.
Sizing up the competitors
Before buying shares of a company, it's always a good idea to get to know its competitors first. For Cloudflare, its closest competitor in the CDN business is Fastly and Akamai.
Like Cloudflare, Fastly is also loss-making but growing fast. Revenue figures are slightly lower than Cloudflare yet the stock price is almost double that of Cloudflare. Fastly's product positioning is targeted at developers who want more control and customization of their CDN and security infrastructure. On the other hand, Cloudflare tries to make its user interface intuitive and simple to lower the learning curve for users.
Akamai has been around since 1998 and is pretty much holds the largest market share in the CDN industry. It is profitable and earning revenues 5-6x more than Cloudflare or Fastly and this shows in the share price. I'm not keen on Akamai because the company moves slower and growth rates are not comparable to Cloudflare or Fastly.
Weighing in
I am bullish on Cloudflare as I think that the technological wave we're seeing provides a strong tailwind for the company. The business is sound, growing rapidly and (fingers crossed) not too far away from profitability. As always, please do not take this as investment advice and do your own due diligence. I hold a small position in Cloudflare.