Shareable Asset (SA) is an asset tokenization platform for real estate. Simply put, it allows investors to invest online in real estate via fractional ownership of real estate. The platform is MAS regulated and investing is done through a mobile app (iOS and Android) that is sleek and easy to use. Check out their main website here: https://www.shareableasset.com/
The platform is free to download and use. Sign up with my referral link for free credits of 8 GBP for use in your first investment!
This is not a sponsored post. After I signed up an account with Shareable Asset, I had many questions about the investment process that their FAQ page was not able to answer. I emailed the SA team with and they very kindly answered all my questions. Since they are agreeable to me publishing this information online, I decided to share them here.
Here's a sneak preview of how the app looks like after you complete the sign up process:
Horizon@Sunderland is the first property listing on the app. The investment period has not yet begun which is why the "Invest" button is greyed out.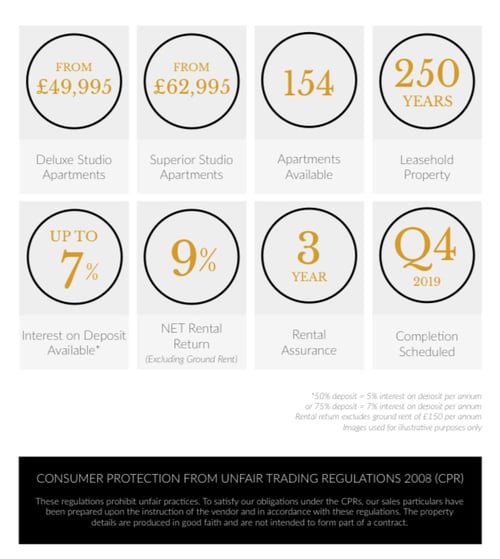 Please note that the following questions were based off documents attached for this property listing. I have included a screenshot of the FAQ slide that is referenced to the most.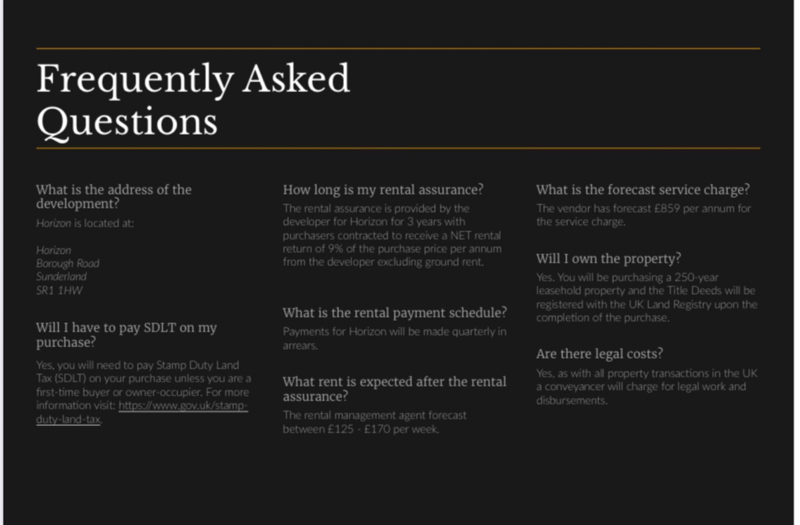 According to the FAQ slide in the Launch brochure, the rental payment schedule is made quarterly in arrears. Does this mean that investors who invest via Shareable Asset (SA) will also receive the rental amount corresponding to the portion of the property that is owned on the same quarterly frequency?
A: Yes, all quarterly rental income will be paid to investors based on their investment amount
According to the same FAQ slide, Stamp Duty Land Tax is payable to the UK government. Please confirm if this is the case. Is stamp duty payable directly to the UK government or will investors be able to settle this payment through the SA app?
A: In UK, the first 125,000 pounds is tax-free, we try to keep the investment within this limit. The stamp duty is payable directly to the government, if applicable, through solicitors
Note: You may have noticed from the video above that the Sunderland@Horizon listing is valued at 130k GBP. This corresponds to 2 apartment units (valued at 65k GBP each) in the property. Only 2 units are tokenised on Shareable Asset. So if you invest 130 GBP, you will essentially own 0.001% of 2 apartment units.

I tried using the stamp duty calculator at the link provided in the slide but there are a number of questions in the calculator that I am unsure of how to answer. Can we get an investor's guide on how to apply for stamp duty (if needed) please?
A: Please use this link from Knight Frank, more user friendly: https://www.knightfrank.co.uk/stamp-duty-calculator
The same FAQ page in the launch brochure mentioned that there are legal costs involved. Could you advise what legal costs investors are required to bear and how this is calculated. How will we be informed of these costs through the app?
A: To purchase an apartment unit at Sunderland, the legal cost to complete the purchase will be 1,200-1,500 pounds. This legal cost is included in the total valuation of 130,000 pounds.
There is a forecast annual service charge of £859. Could you advise if investors are required to bear this cost and how the service charge will be calculated in relation to the fraction of the property owned. Will investors be able to pay for these costs through the app?
A: During the rental guaranteed period of 3 years, you are not required to pay service charge. When the rental guarantee expires after 3 years, all investors will share this cost based on their pro-rata share of investors. If you own 10%, the cost will be 85.9 pounds. We will deduct the cost from rental income and distribute the net rental to investors on quarterly basis
Let's say I invest in some tokens of a listed property and after some time, I wish to sell off my token(s). Is this possible? How would investors go about cashing out their tokens?
A: We will provide re-listing for your investment on an annual basis to get new investors to purchase. If investments are held until maturity of investment period, say 2 or 3 years, property will be sold in the market and full sale proceeds distributed back to investors. We are also exploring the possibility of listing the security tokens on a third party exchange to facilitate trading.
Can we expect that all listed properties will be sold after the rental guarantee period?
A : Yes, we intend to propose to investors to sell after rental guaranteed period but ultimately, we take instructions from investors who are owners of the properties
I hope you find this useful! If you have additional questions about Shareable Asset, please reach out to the team at support@shareableasset.com for clarification.